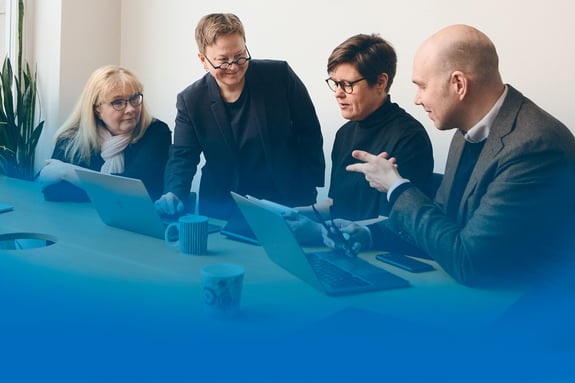 WE KNOW PEOPLE
Juuriharja coaches you deeper than the surface, and with the same approach also virtually.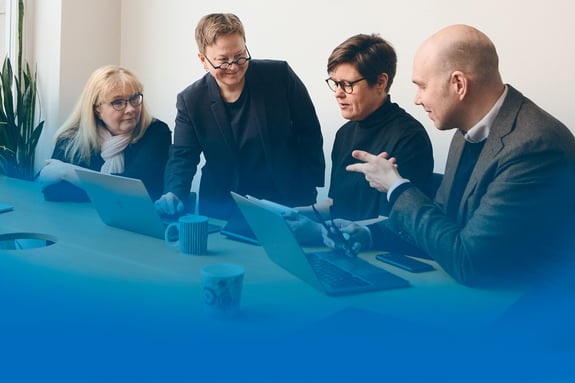 COLLABORATION SKILLS
It's not about how it has always been done, but how we will succeed together.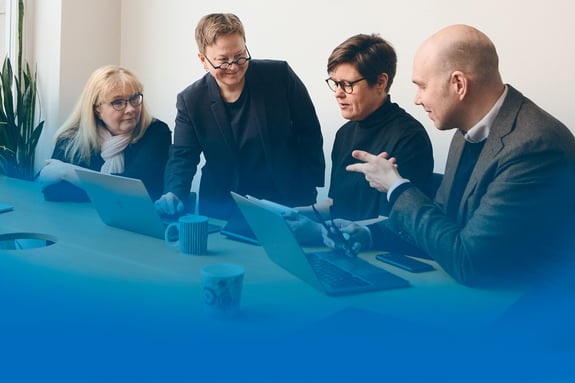 OPERATION SCRUB BRUSH
Leadership training from which no one returns as they left.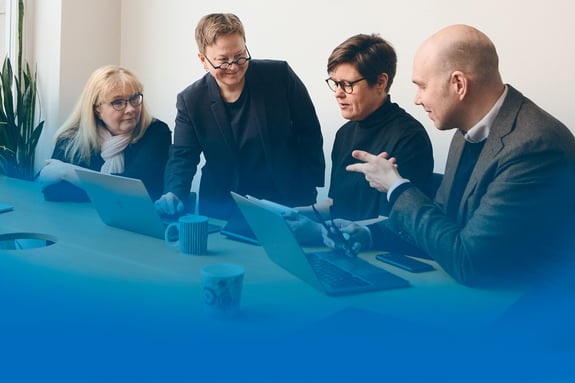 ETHICAL LEADERSHIP
Ethical leadership = productivity and well-being at work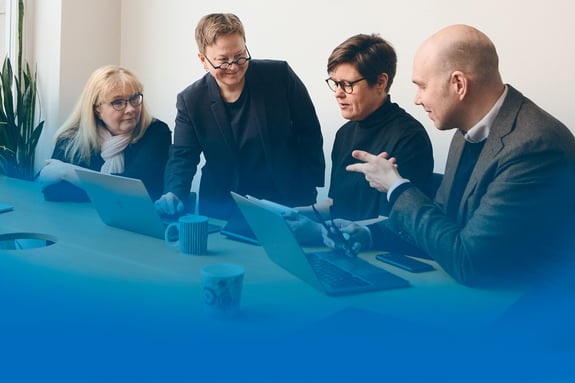 WHISTLEBLOWING
First Whistle - the most user-friendly whistleblowing solution
SERVICES
We help our clients to improve their leadership practice, competences and capacities, to clarify operations and processes, and to excel in both productivity and well-being.
7 reasons to choose Juuriharja
1 - ETHICAL LEADERSHIP PROMOTES WELL-BEING, PRODUCTIVE AND MEANINGFUL WORK
The arrowheads of ethical leadership include justice, being heard, completing meaningful tasks, encouraging, honest feedback and experiencing achievement. All of these contribute to the well-being of personnel and clients alike, while encouraging to strive for better and more productive solutions.
2 - LEADING PEOPLE COUNTS
Business, teamwork and leadership all occur between people. People buy and sell. People lead and are led; they engage in collaboration. Research suggests that the main source of wastage in organisations is the lack of human competence.
By human competences here we are not referring to something 'fluffy' and meaningless but rather to deep-level competences, the ability and capacity to recognise emotions and lead them, both in yourself and in your fellow human beings.
Human competences thus refer to, for example engaging in interaction, which enriches other people's realities and helps to direct one's energy towards objectives, and to the comprehension and competence to organise and develop work in ways that allow everyone to succeed.
An enthusiastic person will enjoy their work, restructure it and invite others to do the same. A person lost in the mundane, tired and having lost their motivation only performs at the bare minimum level because they lack energy, and are unable or unwilling to do anything extra.
Leadership that is based on human competences strengthens that psychological capital and encourages the organisation to flourish together.
3 - THE JUURIHARJA WAY
We build a relaxed, open atmosphere and maintain it. We work also with difficult issues, basing our working method on scientific evidence. Of course we could be dead serious, even to the point of being dry. However, we do know that a person grows and develops best when the atmosphere is open minded and spiced with a pinch of humour. We approach things in a relaxed manner which in itself helps in achieving the goals set. Emotions are what matters and energy is contagious.
4 - QUICK GUIDES
Our popular quick guides available for you - free of charge!
5 - SATISFIED CLIENTS: COMMITTED AND AMBITIOUS COLLABORATION
Our clients particularly value our combination of a solid theoretical base and strong practicality. We are both bold and humane in challenging our clients. We help in building on strengths and are not afraid of addressing the very core of identified problems. We coach our clients to attain new levels of success in their activity and to assume responsibility for the results of our work. We collaborate with different sized companies and organisations, in both private and public sectors.
"The experience and expertise of Juuriharja ensured an excellent result, which both staff and management were committed to. I particularly value the ability of Juuriharja to promote dialogue and boldly question embedded views, in a respectful manner."
Tiina Tuurnala, Director General
Finnish Transport Agency
6 - JUURIHARJA BLOG
In Juuriharja's blog our coaches share their thoughts on business ethics, ethical leadership, corporate social responsibility and whistleblowing related topics.
7 - OPERATION SCRUB BRUSH
Operation Scrub Brush by Juuriharja is an amazing development program, intended for ambitious and courageous leaders. Leaders who want and dare to examine critically the ethical dimensions of their own leadership and to systematically build the ethical capacity of their own organisation.
The story of Juuriharja
Juuriharja is a coarse scrubbing brush used to scour sauna benches and rugs squeaky clean. On a metaphorical level it brushes away the everything obscuring the values and beliefs at the very core of an organisation. It helps you to see below the surface.
Juuriharja Consulting Group Ltd. was born out of a willingness to build better business models to help clients to achieve commercial success in an ethically sustainable way. The founders of the company have been developing the ethicality of their client companies for nearly twenty years.
Juuriharja's clients simultaneously strive to achieve high productivity and wellbeing at work, based on ethically sustainable solutions.
Juuriharja works according to its values: sensitivity of perception, the desire to help, the joy of action and the hunger for excellence, challenging and supporting the development of its clients.
With the help of Juuriharja, companies can reach their goals in a reliable way and in a way that pays heed to risks and insecurities, while at the same time acting with integrity. The members of an organisation are encouraged to take personal responsibility for success, both in the short and the long term, and to take into consideration the consequences of individual decisions from different perspectives.
At Juuriharja, we are driven by the pursuit of making ethicality a sustainable success factor for our clients.