First Whistle – the easy to use and carefree whistleblowing solution
A whistleblowing channel is a legal requirement for all organisations employing 50 people or more
The basis is the EU whistleblower directive from 2019. Previously popular email channels or intranet feedback possibilities will no longer be sufficient.
The First Whistle is easy to implement, it is a
plug-and-play
cloud service and does not require any changes to your ICT systems.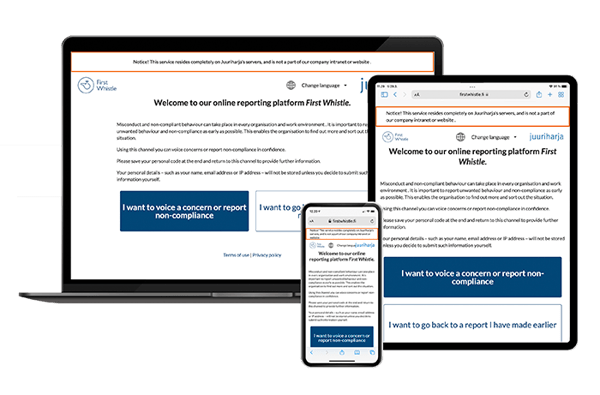 First Whistle is user friendly and dependable
ANONYMOUS WHISTLEBLOWING
The whistleblower's identity is strongly protected in First Whistle. Should you want, you can also require the whistleblower to identify her/himself.
Sometimes a whistleblower does not trust the system and chooses to report externally, e.g. to the media. To make this risk smaller for you, we have made use of our background in psychology. First Whistle supports the whistleblower and helps build trust.
At the end of creating a report, the whistleblower receives a unique token which enables secure communication with the whistleblower throughout the investigation.
ANONYMOUS COMMUNICATION
Case managers receive email notifications when a report is filed or otherwise new information is received. There is no need to check the system.
Data gathered during the investigation can be stored inside First Whistle, in a data safe environment.
Communicating with the whistleblower is easy and is documented automatically.
Some of our reference customers:
First Whistle is safe
First Whistle has been developed with the data security and the first guiding principle with leading professionals.
Security audit has been conducted in 2021.
In addition to the data security of the system, we have spent endless hours imagining what kind of human errors could occur and built the system to keep you safe also from your mistakes.
With First Whistle it is easy to be compliant with modern whistleblowing requirements.
FIRST WHISTLE IS:
compliant with the EU whistleblowing directive

compliant with the EU GDPR requirements

data secure

scalable for different devices

digitally inclusive and accessible
True value for business operations
Implemented in the right way, whistleblowing can support your risk management processes and help save time and money. And lower your stress levels.
DAMAGE CONTROL
Unethical or illegal action may cause considerable damage both directly and indirectly. Timely case management prevents further damage.
ACFE (Association of Certified Fraud Examiners) 2020 Global study on occupational fraud and abuse says whistleblowing is typically (43%) the way wrongdoing is detected.
First Whistle is user friendly for the whistleblower to increase the likelihood that it is you and not the media who gets to hear it first.
PREVENTION
It is easy to recognise early signals after the fact. Those moments are the lost opportunities when unwanted events could still have been avoided. Often beforehand those signals feel insignificant or there is the illusion that there is still time to fix things.
Make sure everyone in your organisation is familiar with your code of conduct and they know where to turn when boundaries are crossed. Management should be trained to welcome ethical discussions so they can hear what is simmering under the surface. Ethical organisational culture is the strongest means to ensure operations steer clear of unwanted business risks and focus on building sustainable success.
The whole implementation process was so effortless with you that I want to thank you warmly for the professional help.
"
The deployment has now been completed and I must say that no previous deployment has gone so smoothly. Thank you!

"
"First Whistle has been a very easy way for us to meet the requirements of the EU directive.

Its implementation was quick and effortless.

"
Implementation of the First Whistle is easy and hassle free.
We will help you define your case management and escalation process as well as with required staff training as needed.
The amount of support you want is totally up to you.
Respond to our email with First Whistle agreement and share with us information regarding your case managers.
First Whistle at your service
Currently we deliver within two weeks of receiving all necessary information from you.
Some of our reference customers:
Enjoy our blog posts
on whistleblowing and ethical leadership. AN EASY-TO-USE AND RELIABLE WHISTLEBLOWING CHANNEL
The whistleblowing channel will become mandatory for all organisations employing more than 50 people. Take the easy-to-use and reliable First Whistle whistleblowing channel into use.
This service is provided by Juuriharja Consulting Group Oy.