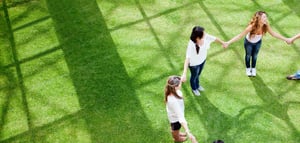 Team coaching
Team coaching
Good collaboration skills increase the productivity, creativity, problem-solving skills and well-being of teams and workgroups.
Juuriharja helps teams to build a strong foundation for the continuous development of collaboration skills. This includes building teams, assessing and developing collaborative skills, as well as coaching collaborative leadership and facilitation skills.
When team coaching?
There are several right moments for team coaching.
Sometimes a new team needs to get up to speed quickly and sometimes an existing team needs their collaboration practices to be refreshed. Changes in the operating environment, expectations of growth or declining resources can challenge the team to look for completely new approach and ways of working. Sometimes, accumulated stickiness and routines can decrease productivity and dampen the mood. Perhaps in the midst of rapid growth, there has not been enough time to agree on common ways of working. Sometimes there is a need to tweak good practices to make them just a little bit better.
What issues are covered in team coaching?
Every team needs regular discussions about the purpose of its existence. In a changing environment, there is a need for continuous review and renewal of the team's core mission and related performance objectives, competences and share of responsibilities, cooperation directions and collaboration practices.
The team's rules should also be subject to periodic joint review and development. In these discussions, it is also important for team members to identify their own role and function as part of the team's meaningful core mission.
The psychological safety, the culture of helping and sharing, and the supportive interaction that characterise top teams are not created spontaneously. In addition to clear structures, rules and responsibilities, there needs to be an open, deep and respectful dialogue, where difficult and controversial issues can be dealt with in such a way that strengthens working relationships.
What is achieved by team coaching?
Team coaching helps a team (e.g. a development, account or project team) and its individuals to better utilize their potential to achieve common goals. It focuses on the individuals, the collaboration and the team's performance and ways of working.
Team coaching makes visible the elements that support the objectives of the team and the surrounding system as well as the obstacles. Understanding of team practices, differences and similarities between people, competences and resources is enhanced. The coaching increases appreciation of one's own work and that of team members, thus strengthening mutual trust and openness. A psychologically safe atmosphere allows learning from experience and asking for and sharing help. A feeling of togetherness creates motivation and commitment - the desire to succeed together!
Would you like to discuss further?
Contact us - we are happy to help!
JUURIHARJA BLOG
Read more about our coaches' thoughts on ethical leadership, corporate social responsibility and whistleblowing.