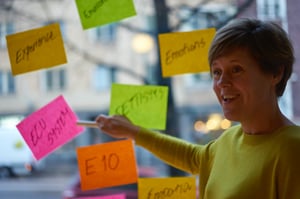 OUR STORY AND VALUES
Read the story behind Juuriharja and learn more about our values that are visible in everything we do.
A pioneer in ethical leadership
THE STORY BEHIND JUURIHARJA
Juuriharja is a coarse scrubbing brush used to scour sauna benches and rugs squeaky clean. On a metaphorical level it brushes away the everything obscuring the values and beliefs at the very core of an organisation. It helps you to see below the surface.
Juuriharja Consulting Group Ltd. was born out of a willingness to build better business models to help clients to achieve commercial success in an ethically sustainable way. The founders of the company have been developing the ethicality of their client companies for over twenty years each.
Juuriharja's customers simultaneously strive to achieve high productivity and wellbeing at work, based on ethically sustainable solutions.
Juuriharja works according to its values: sensitivity of perception, the desire to help, the joy of action and the hunger for excellence - challenging and supporting the development of its clients.
With the help of Juuriharja, companies can reach their goals in a reliable way and in a way that pays heed to risks and insecurities, while at the same time acting with integrity. The members of an organisation are encouraged to take personal responsibility for success, both in the short and the long term, and to take into consideration the consequences of individual decisions from different perspectives.
At Juuriharja, we are driven by the pursuit of making ethicality a sustainable success factor for our customers.