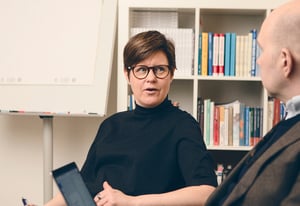 Executive coaching
offers managers the opportunity to share and reflect on their own thoughts and to be challenged
It is often lonely in the management of an organisation and the responsibility for operational objectives may feel heavy. The directors do not seem to have enough time to stop and think about what is the most important.
The complexity of the system and the number of details require in-depth, quality thinking. As a director, you have to carry issues and concerns that you cannot share with others. Even personal dreams and ambitious plans do not always fit into the shared agenda. People are not used to opening up their own uncertainties. Even colleagues do not always dare to challenge and offer sincere feedback to fuel your development.
Executive coaching is a development process for experienced directors. The objectives of this stimulating and highly personalised process are defined on the basis of the business needs and the director's own development objectives. Coaching provides an opportunity to share and reflect freely on one's own thoughts and to be challenged about the things one cannot see or does not want to admit.
The executive coaching process is often considered necessary when
there are significant changes in business and/or strategy
a director is given a new responsibility or a new position
Coaching sessions allow to drill deeper into the mindsets, beliefs and attitudes that have a strong impact on leadership and business performance. Coaching sessions are seen as valuable moments to pause, enabling to structure your own thinking and also to notice different signals, even the weak ones, that can have a major impact on future.
Executive coaching processes are also an excellent complement to leadership team coaching. Coaching provides each member of the leadership team an opportunity to focus on their own leadership and to better implement what has been commonly agreed in their own areas of responsibility.
"The coaching gave me tools for leadership. I also understood that coaching is worth utilising more often during my career."
"My own role is very much about providing support to others. That's why it's particularly important to have the opportunity sometimes to focus on yourself and your own development."
"Coaching helped me to realise how best to work with different types of people in different leadership situations - also remotely. Coaching has freed up a huge amount of energy for me, not only for leading my team, but also for developing operations."
FEEDBACK FROM OUR CUSTOMER
"I have been working with Rea for years. In the beginning she helped me to structure my work life and life in general as my coach and since then I have conducted several cooperation projects with Rea to develop the work community and the leadership team work. In all of these projects we have got what we were looking for and also things we didn't know we needed. Rea wins people's trust with her calm, constructive, insightful and profound presence, creating an atmosphere in which things can be genuinely developed."
JUURIHARJA BLOG
Read more about our coaches' thoughts on ethical leadership, corporate social responsibility and whistleblowing.