Erika Heiskanen
CEO, partner, licensed psychologist

CLARIFYING, BROADLY UNDERSTANDING, PROFOUND AND HILARIOUS
Erika has over 20 years of experience in developing ethics in organisations and their management. Her approach is engaging, with a sense of humour and a strong commitment to mutually agreed objectives. Erika listens carefully and wants to keep everyone on board to ensure sustainable success and results. The work is not done with tools first, but with the client's needs in mind.

Erika's extensive knowledge of leadership development, organisational values and ethical principles (code of conduct) through to whistleblowing topics, brings depth and breadth to the examination of work objectives and the selection of the most appropriate means. Erika keeps calm and is always ready to help, even in the midst of a crisis.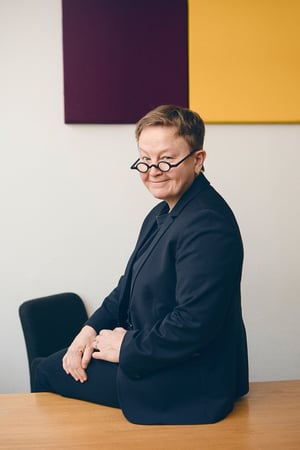 MAIN AREAS OF EXPERTISE
developing ethical leadership
whistleblowing
definition and implementation of the Code of Conduct
defining and embedding values
strategy work
development of organisational culture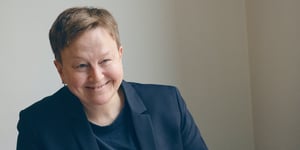 "The deployment has now been completed and I must say that no previous deployment has gone so smoothly. Thank you!"
ERIKA'S BACKGROUND
Erika has been working in organisational and leadership development for over twenty years. As a psychologist, her understanding of the importance of values and ethics as the cornerstone of sustainable success for both people and organisations has been clear and has only deepened over the years. Experiences of injustice and unfairness distance and break engagement, whether in a working, pre-employment or customer relationship.

Erika has co-authored with colleagues a book on values (2003) and on ethical leadership (2007). In 2009, Erika co-founded Juuriharja Consulting Group Ltd. with Jari Salo. A decade as CEO of Juuriharja enriched and deepened her understanding of organisational leadership. Since then, Erika has contributed several chapters to books, as well as articles, columns and blogs.
The quality of leadership is an important factor in the success of an organisation, but so is culture. Over the years, developing an ethical culture, values, ethical principles and ways of highlighting misconduct have played an increasingly important role in Erika's work.

The last few years have therefore been spent in Erika's intensive work on whistleblowing topics and on the development and launch of Juuriharja's own whistleblowing channel First Whistle, and with adding more and more value to Juuriharja's customers.

Fun fact: Erika has implemented lean principles even in her own wardrobe!
TRAINING AND ACCREDITATION
Licensed psychologist, Master of Psychology, University of Helsinki, 1999
Work Community Developer and Supervisor, Institute of Social Pedagogy, 2004
Hofstede culture scan, Hofstede Insights
Peili 360° operational style assessment, Integro
Extended DISC operational style's self-assessment, Extended DISC Finland
GRC Professional, Open Compliance and Ethics Group (OCEG), Mefford Associates
GRC Auditor, Open Compliance and Ethics Group (OCEG), Mefford Associates
Last planner system (LPS), certified trainer, Lean Construction Institute
Erika's
BLOG POSTS
on ethical leadership and whistleblowing.