KATRIN HINZDORF
Executive Coach, Coaching Supervisor
DYNAMIC COACH WITH A PERCEPTIVE AND HUMAN APPROACH
Katrin is an established and accredited psychologist and coach, with 17 years of professional experience. Katrin gets driven by the wish to free people from the structures that hold them back, within themselves, and in their interpersonal relations.
Recognising and respecting the human and business mind of each individual, she helps people to bring balance to all aspects of their lives. Through her coaching expertise and methods, Katrin strives to make meaningful and lasting impact, cutting through human complexity to arrive successfully at her clients' personal and professional dreams.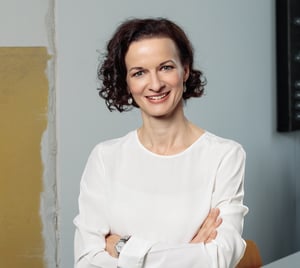 MAIN AREAS EXPERTISE
Executive Coaching
Coaching Start ups and founders teams
KATRIN'S BACKGROUND
Katrin's approach to coaching is integrated and combinative. She often applies a carefully selected range of psychological techniques and coaching perspectives to provide the most effective practice for the client. These perspectives are combined with insights gained through extensive experience and expertise coaching across a wide variety of organizations and individuals.
For the last 17 years Katrin has been working as a coach alongside highly talented and inspiring founders and leaders. Her clients include German car manufacturers, an international aircraft manufacturer, German and international banks, one of the largest global technology corporations, and government agencies and non-profit organizations.
Based in Berlin she is particularly dedicated to helping founders and start-up teams on their journeys. Katrin loves to work with people who are committed to developing their own personalities, their teams, and their organizations, to facilitate purpose, culture and growth.
Since March 2021 Katrin has also been an accredited Coaching & OD Supervisor. She sees her role as a supervisor as helping to 'unblock' the supervisee, freeing them to work effectively with their client(s), and creating space to partner with the supervisee to examine cases together. This helps to consider complex, multi-layered challenges, within ourselves or within team dynamics, and works toward organizational change.
TRAINING AND ACCREDITATION
2019-2021: Ashridge Accredited Coaching & OD Supervisor; Postgraduate Diploma in Organisational Supervision and Executive Coaching Supervision at

Ashridge, UK, run by Hult International Business School

2011-2013: Certified advanced practitioner of EFT (Emotional Freedom Techniques according to the AAMET syllabus), Judy Byrne, EFT Master, London

2005-2010: Trained in systemic interventions

2007: Trained in Appreciative Inquiry. Dr David Cooperrider

2002-2006: Completed a 4-year programme in Switzerland to become a qualified and certified individual and team coach in solution-, resource- and objective-oriented methods, Solution Focused Brief Therapy, NLP and Aarauer Model; Centre for Interdisciplinary Systemic Therapy (ZiS), Aarau, Switzerland



1

999-2002: DPhil. in The Evaluating the Implications of Psychological Executive Training in order to affect Ingrained Behavioural Structures.

Supervisor: Prof. Lutz von Rosenstiel. Institute of Industrial and Organisational Psychology, LMU, Munich

1

997-98: Trained in Behavioural Therapy, TU, Dresden

1

993-1999: MSc. (Psych.) Occupational Psychology and Clinical Psychology. Leipzig, Johannesburg, Dresden, Oxford. Technical University (TU), Dresden